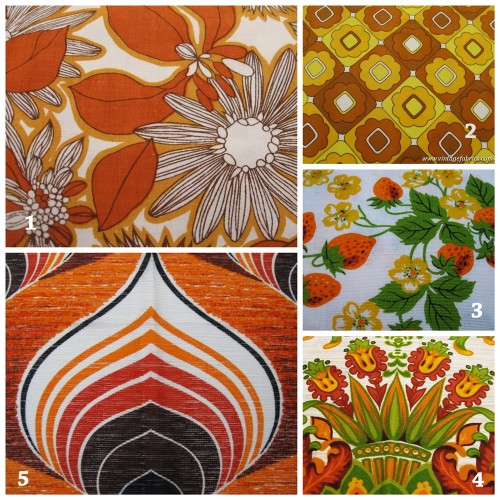 Happy New Year friends… I know it's the 3rd today and I'm a bit late but I'm really not a fan of January 1st. I'm not sure why that is but I'm always happier when the 2nd rolls around. I'm going for a few changes on my blog front – nothing too drastic but I'm sure before the year is out there will also be a redesign in there somewhere.
So why not welcome in the new by talking about the old. I seem to be seeing vintage fabric everywhere at the moment. How do these people find such well preserved vintage fabrics? I went online (as you do) for a Google search and came up with Retro Age Vintage Fabrics – an Australian website that has the most, dare I say, nostalgic range of vintage fabrics. I am convinced that we used to holiday in a house with curtains made from #5 fabric. It's funny how music and smells can instantly bring back memories I had a similar experience with this fabric.
I have specifically chosen fabrics from the 70's and 80's but you probably guessed that right? I'm having a hard time calling it vintage because I equate that with calling myself vintage.
1. 3581a. Retro mod 70s cotton orange rust sheeting 2.  3906. Retro mod 1970s minimalist brown floral 3. 4075. Kitsch 70s 80s orange strawberries cotton blend 4.  1537. Large scale bright florentine ogee 1970s cotton 5. 3632. Gorgeous Scandinavian 1970s super graphic sampler