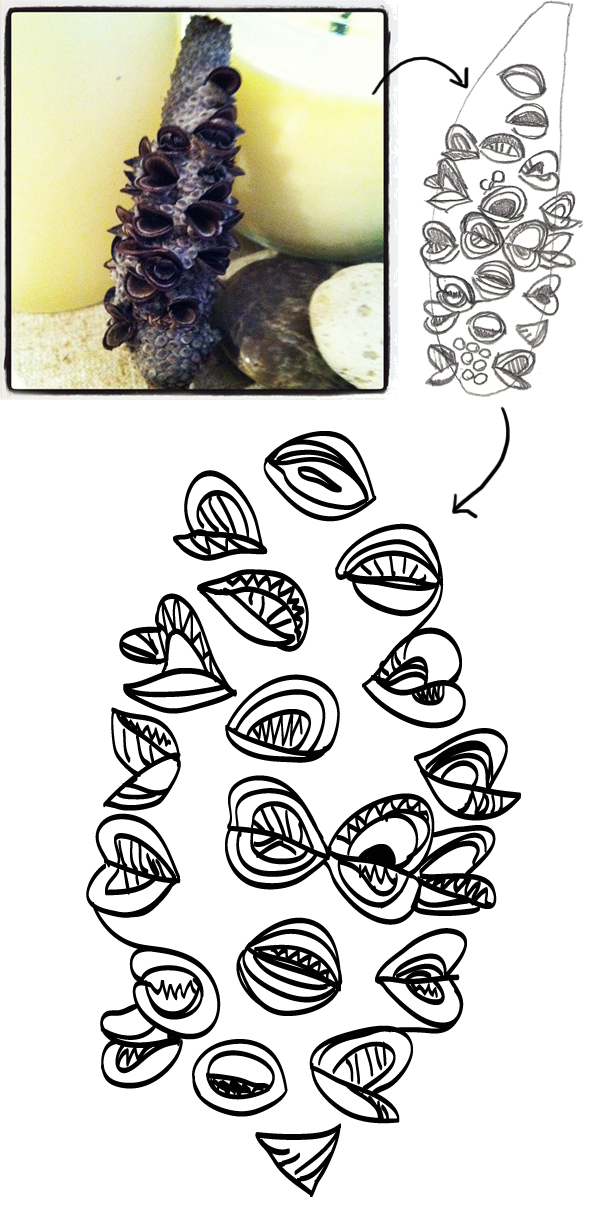 There has still been nothing resembling a sunny day today, my one opportunity to photograph and show you my finished printed fabric *sigh*. But I can show you my original drawing and a method that I've been playing around with since the snowflake obsession of last year.
I've been quite obsessed with tree pods lately and the boys (and I) have been dragging them home and they live at the end of my kitchen bench. This one, from a coastal tree, I found on the south coast in January and it is definitely my favourite. I love how it's half popped and the shapes that are created. I sat with sketchpad and pencil (it's been too long) and drew it and then scanned it into the computer. In Illustrator I put my scan on one layer and locked that layer and then on a new layer I used my Wacom tablet to trace the shapes. When I had done my best at tracing I actually removed my drawing to a new document so I wasn't distracted by the pencil drawing. I wanted to maintain the 'shape' of the pod but I didn't want to draw it in – I wanted the eye to make out the oval shape. Then I kind of went crazy and added extra lines, filled in some elements, rotated, moved and in some cases connected and disconnected. The tablet makes it really easy to move and reshape lines already drawn.
Now that it's been blown up to almost twice the size and I have printed it in two different colours I can see that if I had my time over I probably would have filled in some of the little shapes but overall I think it worked well. What I haven't told you is that I also wanted to somehow included the texture of the pod so I have done this in a very different way. It's hard to explain but I promise (I keep saying that) I'll show it to you soon.
If you find any interesting images of tree pods, make sure you send them my way.